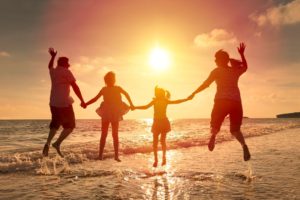 Simply put, the cause of divorce is rooted in dynamics that are not sustainable in a marriage.
Each person in a marriage brings their past experiences, ideas, influences and family history to the table. More often than not, couples choose to get married before they even know themselves fully and these unhealthy, destructive dynamics slowly come out over time as the relationship experiences milestones: the vows themselves, having children, major losses, major successes, etc.   (Our Clinicians)
The fact that many people are not aware of themselves at a deep level is not anyone's fault, but now that you are divorced you have the opportunity to understand yourself in a deeper way to create an insurance policy against finding yourself in the same situation.
Understanding Yourself = Better Choices
Understanding yourself in deep ways usually comes out of working with a therapist. Well, working with a therapist makes is more of an expedited process anyway. You are certainly capable of discovering yourself on your own but a good therapist can put pieces together with you that you have never thought of.
A divorce therapist, in particular, will be able to understand a lot of what you are going through.
After you have learned about the good and bad "stuff" that you bring to the relationship table and have healed some of those wounds, you will know what it is like to be open, flexible and appreciate your own capacity for growth and change. You will have become enlightened in a way AND you will be able to recognize those abilities in others.
I work with over a thousand families a year in counseling and through that I have observed that flexibility, introspection and curiosity are key factors that each partner needs to have in order to make a relationship work. 
Observe, that each partner does not need to be perfect, all knowing or super human. They just need to have the capacity alone and that boosts success rates immensely.
Happiness in a relationship is possible. Get the help you need from a good therapist that specializes in divorce in St Louis and start your journey to finding your happy path.

Written By Kristen Craren
Kristen Craren is a Licensed Professional Counselor and Clinical Director at Greenway Therapy . Learn more about her on her BIO page.